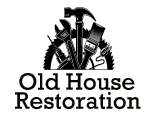 When restoring an old home, sometimes not all of its wood trim can be saved, no matter how hard you try to salvage it.  Being able to replace this wood trim is integral to an old home's preservation and Old House Restoration can match and mill it for you.  We currently have knives for approximately a dozen historic interior and exterior trim profiles (click on images below to see enlarged diagrams) and can have new ones made to match your historic trim exactly.

Click imageto enlarge (more to come)

Starting with a good foundation: Old House Restoration's tuck pointing service can help you restore your old home's cracking or crumbling foundation. These services include grind out and full or spot tuck pointing - grinding out the old mortar to a uniform depth and replacing it with new mortar that has been tinted to match your existing masonry.

Once a wall area has been properly tuck pointed, not only is its structural integrity improved, but it is resistant to moisture penetration for years to come.  A properly tuck pointed foundation greatly enhances the value and overall appearance of your home.

​Old House Restoration can also clean stained or discolored brick and strip painted brick to reveal the original beauty of your home's foundation.

Vinyl Composite Tile (VCT)

The possibilities when flooring with VCT are endless.  It allows great flexibility in color and design, plus it's a stand out for durability and value.  We love it for providing a creative, yet period-appropriate option in historic homes.    

Ceramic Tile

We can also help you with designing and laying ceramic tile floors and walls.  Ideal for historic homes is subway tile and traditional 1 inch ceramic tile floors containing mosaic elements and boarders.

Old House Restoration can work with you to troubleshoot and solve a wide variety of old building issues.  Call Old House Restoration at 618-567-4132 to discuss how we can help smooth the path of your preservation journey.